With the outbreak of the Coronavirus, many have compared the response to the current pandemic to the country's responses during World Wars 1 and 2 for consumer goods and how they dealt with hoarding, so let's look at that.
Hoarding: This was a problem during both wars and also today. Does this sound familiar? "The Government is endeavouring to see that every person has a fair share of food and it is therefore of the greatest importance that every member of the public should assist in maintaining a fair distribution of supplies. They should do this by refraining from buying more than their usual quantities of foodstuffs. Retailers should co-operate in securing a fair distribution of their stocks". It is actually an excerpt from the British National Food Journal, published on the 13th of March, 1918. During the "Great War", hoarding was as much of a problem as today. People in Great Britain were facing shortages of food and other materials and made runs on stores, clearing out stocks. The government finally imposed controls, fining and jailing offenders.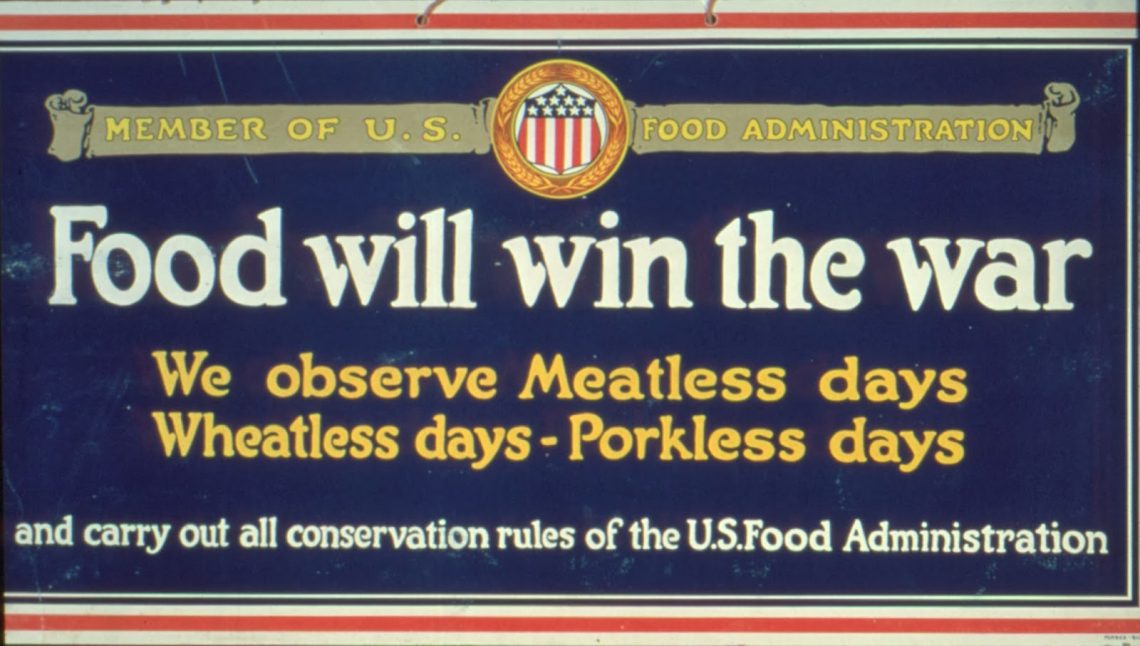 In the U.S. there were shortages as food and other as those items were diverted to the war effort.
But, the U.S did not have food rationing in World War I, it relied heavily on propaganda campaigns to persuade people to curb their food consumption. Through slogans such as "Food Will Win the War", "Meatless Meals", and "Wheatless Wednesdays", the United States Food Administration under Herbert Hoover reduced national consumption by 15%. To help families prepare meals without these former staples, local food boards were established to offer guidance, canning demonstrations and recipes with suitable replacements for the provisions that had become so limited. As a result of these conservation efforts, food shipments to Europe were doubled within a year.
The War Industries Board (WIB) was established in July, 1917, as an agency to coordinate procurement of supplies needed for war, set production quotas, and allocate raw materials (for the car industry, primarily coal, rubber, and steel). But while the Board mandated production cuts of up to 50% for civilian vehicles and other products, these products remained available to for civilian consumption. Many industries that produced cars also moved into making Renault tanks under license, "Liberty" engines for aircraft and marine applications, armored cars, ambulances, trucks and even firing mechanisms for the French 75MM field cannon.
During World War II, rationing was initiated for almost all consumer goods. On January 1, 1942, all sales of cars, as well as the delivery of cars to customers who had previously contracted for them, were frozen by the government's Office of Production Management. As a temporary measure, local rationing boards could issue permits allowing persons who had contracted for cars before January 1st to secure delivery.
President Roosevelt established the War Production Board on January 16, 1942. It superseded the Office of Production Management. The WPB regulated the industrial production and allocation of war materiel and fuel. That included coordinating heavy manufacturing, and the rationing of vital materials, such as metals, rubber, and oil. It also established wage and price controls. Even with these controls, hoarding and black-market sales remained a problem throughout the war.
Coming into the present day, hoarding of everything from paper products to hand sanitizer, bleach and other items has been rampant. Stores have attempted to curtail it by limiting the number of items purchased at a time. Some businesses and "entrepreneurs" have been buying up stocks, hiking the price of goods and demanding obscenely high prices for products.
Here in Michigan, Menards was recently issued a "cease and desist order" by the Attorney General's office for doubling the price of bleach and priced two-packs of 3M face masks at $39.95 with a $20 in-store rebate. Menard's claimed their price increases were "reasonable". They claimed the bleach had recently been "reformulated" by changing the concentration of sodium hypochlorite from 6 percent to 7.5 percent. They doubled the price, but only increased the active ingredient by 1 ½ percent. They offered no explanation for the cost of the masks.
General Motors has proposed linking up with Ventec Life Systems to make ventilators. But this company is insisting on the government providing them with a grant of $500 Million, even though they are sitting on a cash trove of $23,243 Million. GM has stated the cost of each ventilator will be around $18,000, a price that FEMA says is excessive. An online search of technology supplier; the Alibaba Group, showed ventilators that were priced between $1,700 and $10,000. GM doesn't need to build a "Cadillac" ventilator, when a "Chevrolet" will do. But I have to wonder if they are building the "Chevy" and charging the government for a "Caddy".
Where this differs from the experiences of World War II, is that there has been no intervention by the government to control hoarding or initiate ceiling prices. The question I have here, is why? Congress has demanded there be oversight of the monies disbursed under the stimulus act and the President is balking at their refusal to give him personal oversight. President Donald Trump declared "I'll be the oversight" as lawmakers were in the final days of drafting what became a $2.2 trillion rescue plan for American businesses.
While the Congress' bill ensured that will not be the case, the president is still going to consider the bill's oversight recommendations "advisory and non-binding." He went on to say a new inspector general intended to monitor spending under the law would not be bound by requirements to report to the Congress "without delay".
It was reported on April 7, 2020 that he had sidelined the appointed Inspector General, Glenn Fine, the acting Department of Defense inspector general, who was set to lead the Pandemic Response Accountability Committee. I have to wonder why he wishes to keep the IG from reporting to Congress and why he insists on him retaining oversight, traditionally a function reserved by Congress.
Hopefully, the crisis will be over soon and things will return to some semblance of normalcy, but for now….